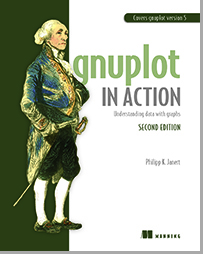 Now available:

Gnuplot in Action
Understanding Data with Graphs
by Philipp K. Janert

Updated 2nd edition

425 pages
Manning Publications (2016)



Updated, expanded, and improved to cover gnuplot 5, this book provides a comprehensive introduction to gnuplot from the basics to power features and beyond. Besides providing a tutorial on gnuplot itself, it demonstrates how to apply and use gnuplot to extract intelligence from data.

Available now from Manning Publications, Amazon.com and other booksellers.
Contents:
Prelude: Understanding data with gnuplot
Tutorial: Essential gnuplot
The heart of the matter: the plot command
Managing data sets and files
Practical matters: strings, loops, history
A catalog of styles
Decorations: labels, arrows, explanations
All about axes
Color, style, and appearance
Terminals and output formats
Automation, scripting, and animation
Beyond the defaults: workflow and styles
Basic techniques of graphical analysis
Topics in graphical analysis
Coda: Understanding data with graphs
Appendices
A: Obtaining, building, and installing gnuplot
B: Resources
C: Surface and contour plots
D: Palettes and false-color plots
E: Special plots
F: Higher math